---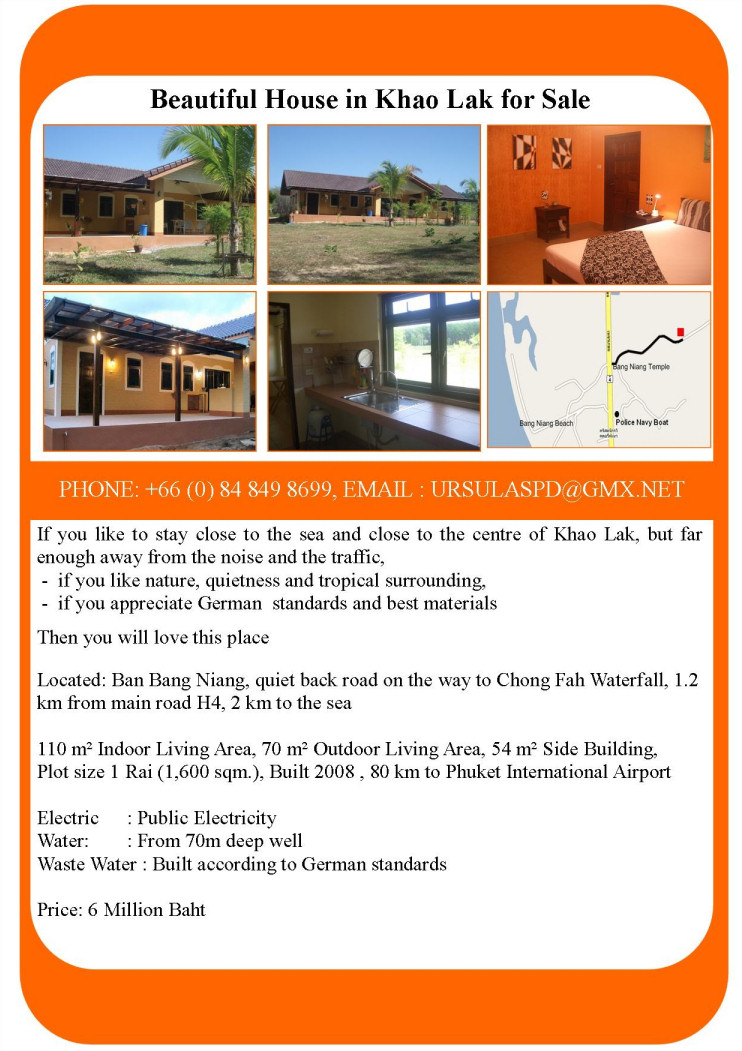 ---
The real estate agency Land House Pool, located at highway number 4 in Khao Lak, near the Bang Niang fresh market, offers land, homes and villas for sale in and around the Khao Lak area.

From small bungalow cottages to bigger homes and stylish and exclusive pool villas with seaview, Land House Pool offers everything a future home owner might ask for. Also on offer are plots of land varying in size from 400sqm to 480,000sqm. The property broker Land House Pool operates successfully since 2002 in Khao Lak and has planned and managed several private villa projects, whereof their latest venture, the Saiyoi Hills Residence, can be found at www.saiyoi.com.

As the company name suggests, Land House Pool also offers pool design, planning and construction. Future home and pool owners are welcome to visit the showroom in Khao Lak to check out scale models, prints and other samples of their work at 40/3 Moo 6, Khuk Khak, Takua Pa, 82190 Phang Nga.
The company-owned database www.landportal.com has listed several new and second hand properties from small basic homes to luxurious villas.

For further information on owning property in Thailand, contact the Land House Pool team at email: info@land-house-pool.com or by phone info@landportal.com 081-2739279
---
Welcome to Andaman Bau = Andaman Constructors
Andaman Constructors is a German - Thai friendship cooperation.
We are two old friends, one Thai and one German, who survived Tsunami together. After the natural disaster we started to build our own houses. In doing so, we generated the idea, to make people happy, who search a new home in Thailand also. This idea includes being closely connected to common welfare of the local working population.
Our show house, we live in, is situated in Lam Kaen at Tong Pling waterfall. You can see it, coming on the high way from Phuket to Khao Lak opposite Merlin Resort on the hillside. On our site you can look and see the traditional architecture design, the quality of construction and the performance of our local qualified skilled workers.

To build your dream house, we offer you land for rent or buy situated in a tropical surrounding near Khuk Khak - in a distance of 5 km or so from the centre of Khao Lak. To serve you is our pleasure. So we make you a special agreement, to build an individual, custom made home in traditional Thai style architecture. And not to forget, for a reasonable price well suited to your budget.

For more information see our website "Overview about our service"
http://www.andaman-bau.de

Contact Gert Flege at:
---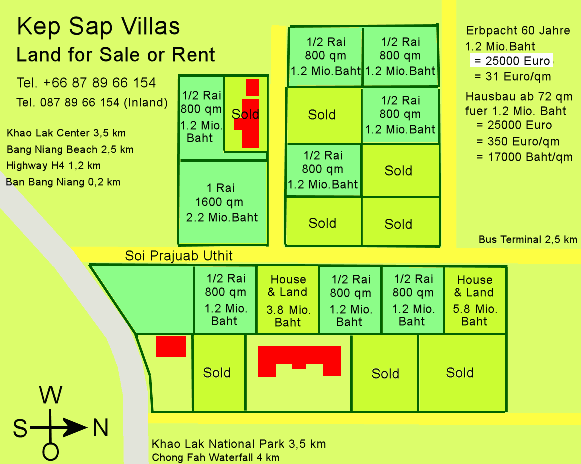 ---
Note: As foreigners in Thailand are not allowed to own land, the legal option to lease land for a period of 30 years with option of two subsequent extensions of 30 years each is the option of choice.

A Thai registered Co.,Ltd. with 39% of foreign-owned shares may purchase land in Thailand as long as the invested money was not brought into the country from overseas.

However, as buying property in Thailand on a Co.,Ltd. basis is a rather complex task, we strongly recommend to consult several Thailand-based law firms to prevent legal complications. We can advise you on law firms that have built up a good reputation in land issues.
We strongly advise against the practice of founding "dummy firms" to buy and own land in Thailand. Only legally registered companies with financially sound Thai partners are tolerated by the Thai government.
More information can be obtained via the webmaster:
---
At Bang Niang Beach unsrupulous businessmen have been exploiting foreigners who wanted to invest in a nice home for their families.

Sad case number 1: In the year 2006 two Swedish families bought land for houses on the beach on the land of former Wunder Bungalows. As they can not own land in Thailand, they gave their land rights and land title to their contractor, a Thai who had lived long time in Sweden and appeared to be a very nice and friendly man. He designed a big house of app. 190 sqm for them close to the beach, not telling them that the construction regulations for Khao Lak do NOT allow houses for living of more than 90 sqm. within 70 metres of the beach. After almost two years the construction had not made any substantial progress. So the Swedes contacted the law firm Vimami in Phuket. The lawyers found the sad truth: Their contractor took the land papers to a bank immediately and received a loan of several million Baht for it. As he did not pay back any interest and the installments, the bank took the land over and sold it to a businesswoman from Phuket in 2006 for 6.5 million Baht. The construction site remains a ruin, as she has no intention to build illegal buildings on her land. As she does not want the Swedish family to suffer, she offered them to buy the land back from her for the 6.5 million Baht plus interest for 2 years -- a very fair offer. Unfortunately the Swedish families would have to pay for their land a second time, so they might not be able and willing to pay twice.
Case number 2: In the year 2005 a rich Danish man bought the land of Mai's Quiet Zone for 12 Million Baht from Sanan, Mai's son. He built 3 houses on the land, two of which have a legal size of not more than 90 sqm. The third one is substantially bigger. Now a fourth building of 150 sqm. is nearly finished and a signboard reads: FOR SALE 430.000 Euro. Rumour has it that this building was sold already. According to the law the buyer can use this house only for public use (restaurant, kitchen, bar, toilets), not as a house for living.
Case number 3: In the year 2007 signboards posted on palm trees behind Ladda Resort offered nice houses for living. Contacts were possible by phone or by a website in Swedish language. Incidentally it was the same contractor as in case number 1 who made this offer. Unfortunately for him one day the real owner of the land showed up and stopped any sale of his land. Let's hope that nobody had paid any money for this land, yet.
Sad case number 4: In the year 2006 the Thai director of a Co., Ltd., who is also the majority share holder, sold 2 Rai of company land at Bang Niang Beach for a very cheap price of 16 million Baht and put the total in his own pocket. To do this he removed the minority director, a foreigner, from his position without telling him because he would not agree to this deal. The Thai director never told his three foreign minority share holders about the sale of the land, although they inquired many times about the land and wanted to sell it once it reached a price target of 30 million Baht in order to recover the losses of their investment in the Tsunami. An inquiry at the Land Office in Takua Pa in February 2008 proved that the land had changed owners already on March 7, 2006. Payment procedures for the foreigners to get at least a part of their original investment back, have been settled through an ombudsman with a heavy loss for the foreigners.
Building Regulations for Khao Lak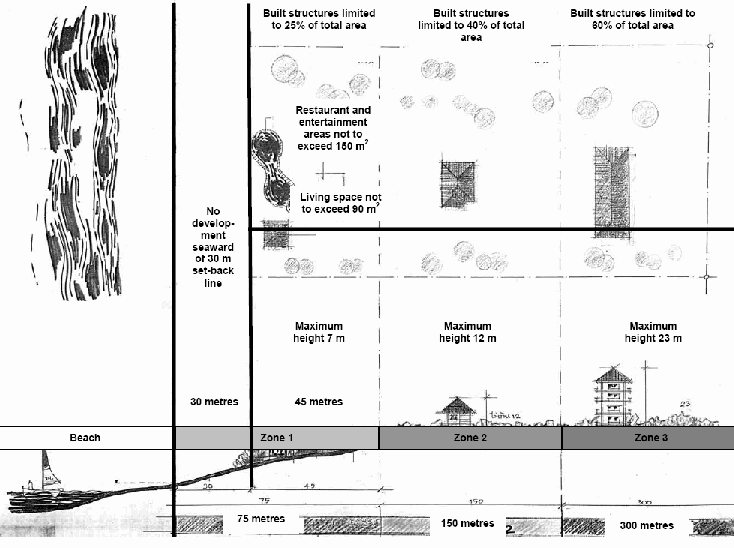 ---
.